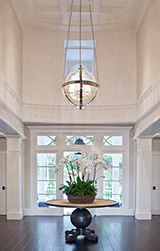 Lighting is more than illumination. Lighting is style, comfort, and a personal statement, all in one. The right fixture adds a touch of elegance to your home or business, creating a mood that sets the scene for family life or work projects.
Ensure you've chosen correctly with help from Lantern Masters, Inc., an assembly of industry-preferred custom lighting manufacturers. For dozens of years, we've served homeowners and entrepreneurs throughout the country, creating one-of-a-kind designer light fixtures unlike anything found in your local big box stores. Our commitment to quality and beauty as earned us a reputation as one of the most respected players in our field.
To find out what we can create for your project, don't hesitate to get in touch with our staff. We're eager to put our knowledge and resources to work for you. The results of our client collaborations are beautiful finished products, whether they choose elegant sconces, classic chandeliers, or stylish entry pendants.
Lantern Masters started by Stuart Olesker, in 1978, had the prime thought in his mind to create beautiful lighting. Joined by his wife, Jackie and later by their daughter, Sharyn, this family business soon became a favorite with the architectural trade.
Collaboration with architects, interior designers, and their clients lead to new designs for custom fixtures. Inspiration comes from many different periods of architectural history, replicating historical fixtures from the 17th, 18th, 19th and 20th centuries are a specialty of Lantern Masters. Fabrication includes age-old forging techniques as well as 21st Century technology. Using superior craftsmanship, along with the finest materials, Lantern Masters strives to create unique light fixtures.
Lighting is an important accessory whether it is part of a premier residence or on an upscale commercial project. Lantern Masters is actively involved in every project, working on the appropriate selection of fixtures and on proper scaling and illumination. Lantern Masters will come to local job sites, bringing portfolios and sample fixtures, to personally work with the client and project team. A "job site" meeting can also happen using electronic conferencing. Having produced over 1,000 uniquely designed fixtures, LM's computerized library can be sent worldwide, making this an easy way of communicating over the distances.